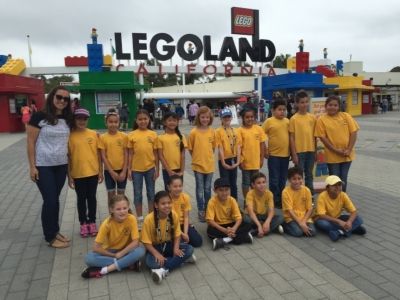 We had so much fun on our field trip to LEGOLAND yesterday. Mrs. Cabrera made a video to capture this special day. You can watch the video here: LEGOLAND Field Trip Video . I would like to thank Mrs. Cabrera, Mrs. Christie, Mrs. Favela, Grandma Nash, Mrs. Prieto, Mrs. Quintero, Ms. Ortiz, and Ms. Silady for joining us on the field trip and watching over the children.
What we will be covering this week:
Religion: types of prayer
Math: fractions
Reading: main idea and details and analyze/evaluate nonfiction text
Language Arts: abbreviations
Phonics: common final syllables -tion, -sion, and -ure
Social Studies: culture, cultural traditions, cultural holidays, & map skills: latitude and longitude
Science: energy wrap up from LEGOLAND
Dates and Reminders:
Tuesday, 6/7: Volunteer Appreciation Luncheon at 12:00 PM
Wednesday, 6/8: Mass at 8AM (wear formal uniforms)
Thursday, 6/9: Team Day (students may wear any spirit shirt and jeans)
Monday, 6/13: Fly Up to 4th Grade Day
Wednesday, 6/15: Mass at 8AM (wear formal uniforms)
Friday, 6/17: Mass at 8AM (wear formal uniforms)
Friday, 6/17: Last Day of School
Friday, 6/17: 10AM Dismissal
Scripture:
But seek His kingdom, and these things will be given to you as well.
Luke 12:31
Relevant Classroom Links: